Peter is a fellow college student who lived on my dormitory (sorry, residence hall) floor for three years. He is currently a teacher for the Vernon-Verona-Sherrill School district and also a staff writer for the Rome Observer. Pete also happens to be a published playwright and aspiring novelist.
Fuzzy And Funny Memories
| | |
| --- | --- |
| | Pete is known to be very accident-prone. He had to go to Oswego Hospital after slipping on a wet log when walking by the lake. |
| | I recall this surreal experience where he insisted on meeting on top of a huge hill that was near a reservoir in Syracuse, NY. So our mutual friend Heather and myself climbed up this huge hill only to see him sitting on top looking out and eating "Crunch and Munch." Later, he was on crutches for many months for some medical condition that he still attributes for climbing the hill. |
| | Many of us were having New Year's Eve at our friend Lisa's apartment. There were about five of us laying out in scattered places throughout the living room. Everytime we kept trying to get to sleep, he would say "Okay, alright, we're serious this time. Time to go to sleep. Alright, I'm goin' in the zone." After this stopped from cracking us up, he would refine it, "I'm goin' in the zone. It's the discovery zone. DZ. I'm goin' in the ball pit." That night we discussed everything from the merits of the show A Small Wonder, to the possibility of ebonic Brady Bunch episodes. |
| | Speaking of New Year's Eve, I remember the first one many of us spent together. It was at a friend's place here in Oswego. They did not have cable, so after watching Grammy awards from 1985, we tried to watch the ball drop through snow. After we went to bed, three out of four of us got laughing (Lisa went to sleep). We were talking about a Taco Bell commercial where some guy comes into some other guys room and screams, "Hey Pete, it's 2 A.M., time to go to Taco Bell!" So Pete starts vigorously shaking Lisa and screams, "Hey Lisa!" She says, "Huh, what?" He says, "It's 2 A.M.!" She says, "Yeah, so?" And he says, "Time to go to Taco Bell!" |
Pictures from Pete's Halloween Party-10/00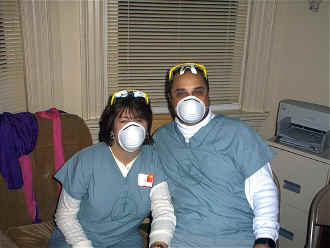 Steve and Heather and Pete's party, ready to help anyone who got a silly medical injury!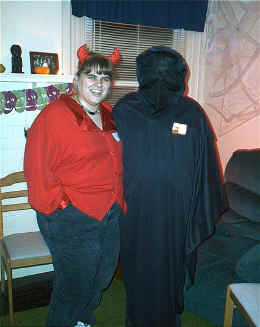 Denise and myself at Pete's party. Both of us dressed as icons of evil, we had strayed to the dark side, likely because our jobs drove us there.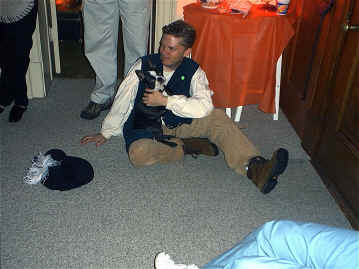 Pete at is party with his new dog, "Clue", who seems happy that someone is paying attention to him!