Here is a page dedicated to mom. She dedicated our childhood years strictly to raising myself, my brother, and my sister. We all turned out...fairly decent I think! There's much to be said for stay at home moms!
Fuzzy Memories
| | |
| --- | --- |
| | I remember the Christmas of 1984 when mom bought my brother and I an Atari. I never thought I was going to get one, and is memorably one of my greatest gifts to date. |
| | I remember my thirteenth birthday. My mother and father said I could either go to Rocky Glen Park (a cheesy theme park about the size of our backyard) or Buttermilk Falls. We chose Rocky Glen. As we traveled, we went by the exit. It turned out to be a surprise two day trip to Hershey Park. |
| | Mom used to attend many of the school functions and field trips. I still remember my mother being a carpool mom on the trip to the Cider Mill when I was in kindergarten. I recall one of the kids in my car saying "Hurry Mrs. Garruto so we can beat Mrs. Beach!!" (the teacher) |
| | Staying up night after night when I was in seventh grade as she would actually read the social studies textbook aloud. I absolutely hated social studies and remember staring into space as she read. Something must have sunk in...as social studies is now my career! |
| | Mom helping me move into college. I remember my sophomore year when I dropped the dresser on her foot. How can I forget...she constantly reminds me! |
Photographs (black and white)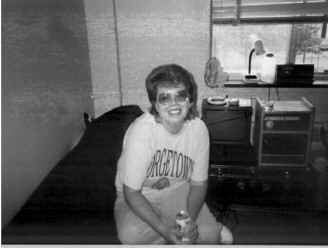 -Mom after helping me move in. Notice that she's smiling so this isn't the year I dropped the dresser on her foot!
more to come!