Michelle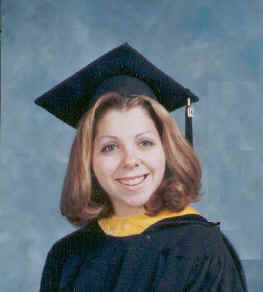 My sister's name is Michelle. Born in 1980, she is currently 24 years old and attending Queen's College for a doctorate in the behavioral sciences. She received her Bachelor's degree from Binghamton University in May of 2002. She is learned in Applied Behavior Analysis; a technique used in the shaping of behavior for children on the autism spectrum. She is currently engaged in research regarding the transfer of stimulus function across linked perceptual classes..and she loves "The Worst Witch."
Fuzzy And Funny Memories
I remember when Michelle arrived home from the hospital. I warned my mother to remember to pick up the right child. Being only six, when I saw her...her face was red, as are all newborns. I was certain my mother picked up the wrong baby.
When we were younger, my sister and I were playing Monopoly (she was about four). Don't ask me how...but she was winning (because I would ask her if she wanted to do something and she always said yes). Now it's important to know that her favorite color was pink AND her favorite number was five. I offered her ALL of my PINK FIVE DOLLAR BILLS (about four of them) for all of her properties. She readily accepted...the game didn't last much longer.
I remember a play we used to always do with stuffed animals. I cannot remember much about the play now, but it had something to do with a dog that got lost in the woods.
My sister as a little girl had this voice that I wish I could duplicate. Anyway, she used to say the words "Bubba" and "Bean" in the funniest way...if you heard it, you would agree that it's worth remembering!
We have this nature site near us called "The Glens". My sister along with either my friends or her friends would frequently walk through. We both loved the part where there was a bridge over the brook and an old stone grill nearby.
Great quotes by my sister:
Helllllo...my name is Bean! I'm here to come to the rescue!
...Because the people said.
Zap...SHIELD!
"Lisa, you need to be initiated into sisterhood by having a shot of half and half with me."

Photographs
-My sister's graduation...June 1998.
Michelle and to-be sister-in-law Lisa busting it on the dance floor at a friend's wedding.
Yes, my sister is going to be the next great American folk-singer! Look out James Taylor!
Michelle and Lisa, again, doing their tryouts for American Bandstand!
The Behavioral Kernal: The Minimal Unit for the Measurement of Stimulus Control in Match-to-Sample Procedures
Performance measures that are based on a single or large number of trials cannot identify the stimulus control topographies that exert momentary control of responding in a matching-to-sample milieu. The behavioral kernel is a unit of analysis that provides the potential of assessing the many stimulus control topographies that control performances on a transient basis, prior to the emergence of experimenter-specified conditional discriminative control.
This is my sister, presenting her first symposium! I'm so proud! And to the right represents her topic.
Unfortunately...not even Babelfish can translate this:)